Surgery
Before Admission
Your pet should be fasted for 12 hours prior to admission for surgery, water is fine until then but NO breakfast!
Make sure you know whether or not you should still be giving your dog any medication they are currently taking. Some medications can affect the anaesthetics or medications we use and cannot be taken whilst others are important to continue using.
If your pet is going to require stitches they cannot be bathed or made wet until they are removed so you may wish to give them a bath beforehand.
Admission
Admission time for surgery is between 8:00am and 8:30am. Upon arrival, you will be asked to provide a contact phone number for the day and will need to sign an admission form to provide your consent. Your pet will be admitted by their dedicated surgical nurse and you will be asked a few questions such as:
When did they eat last?
Are they on any medication?
Do they have any food allergies?
For desexing and microchipping, are you happy for the tattoos in their ears to be placed?
Pre-Surgery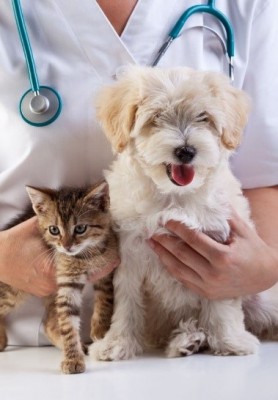 Once admitted for surgery, the nurses give them a general health check or "obs".
If a pre-anaesthetic blood test has been requested it will be performed with the results taking just over 10 minutes. Providing that the test has shown no abnormalities, pre-anaesthetic medications are administered. Such medications are used to provide a light sedation resulting in relaxation and pre-emptive pain relief.
Cats are given a box house to hide in, a soft blanket, a kitty litter tray and we use a spray called Feliway to help reduce stress.
Dogs are given a soft blanket, a cuddly toy and we use a spray called Adaptil to help reduce stress.
Anaesthetic
Prior to anaesthetic, we fix an intravenous catheter (or cannula) into one of their front legs. This will require us to clip a patch of fur. This gives us access to administer medications and allows intravenous fluids therapy. Intravenous fluids (or a "drip") stabilise blood pressure, maintain hydration and help to flush out anaesthetic.
An induction anaesthetic is given which makes them sleepy enough that we can place an endotracheal tube in their throat. This throat tube keeps their airway open for us to deliver oxygen and gaseous anaesthetic and prevents the aspiration of fluids.
During surgery, they are observed closely by an experienced nurse, the veterinary surgeon and monitoring systems. We have the ability to monitor their heart rate, breathing rate, blood oxygen saturation, blood pressure and temperature. They are placed on a heating mat, have hot water bottles, a blanket, socks and an IV fluid line warmer to conserve their body temperature.
Recovery
Once they have recovered from surgery, they are placed back in their cage where they are continually monitored with warming aids. They are taken outside for a walk for an opportunity to go to the toilet and offered food and water. We will then contact you in regards to a discharge time.
Discharge
The time they can go home varies on the procedure they had, how quickly they recover and if more medication is required. Usually, they are ready to be discharged from hospital between 2:00pm and 6:00pm.
The nurse will talk you through how they went today, provide any relevant paperwork and medication and outline home care instructions. You may also be required to book an appointment for a follow-up or suture removal.
Home Care
A nurse will go through aftercare with you on discharge about the following points:
At Home
You will be required to be with your pet for the remainder of the day.
Anaesthetics often require a full 24 hours to completely leave their system. They may be slightly drowsy or tired after you get home and have a reduced appetite.
A small amount of food can be offered and allow access to water as normal.
Anaesthetics can also make body temperature drop, so it is important that they are kept warm with plenty of shelter for the next 24 hours.
If any medications are prescribed, please make sure you understand the dosage instructions and give medication as directed. DO NOT administer human pain relief or medication.
If you are worried in any way during this period, please contact the surgery immediately on 8364 4200. For after-hours assistance: Animal Emergency Centre 102 Magill Rd, Norwood on 8362 1722.
If They Have Sutures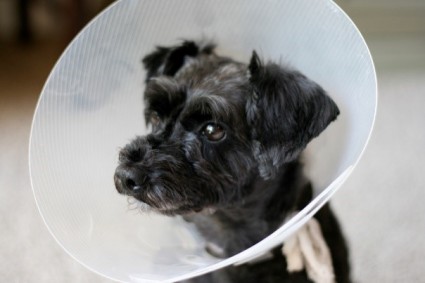 Keep them inside for the first few days whilst the wound is healing. Do NOT allow strenuous exercise for 10 days. Excessive activity may cause some swelling to the wound or cause damage to the internal sutures.
Surgical wounds often ooze a little blood or serum for up to 12 hours after the operation. In general the wound should look clean and dry. Please contact the surgery if the wound is red, swollen or bleeding.
Stitches need to be kept clean and dry to prevent infection, so no bathing or swimming.
If a head collar has been supplied please ensure that this collar is worn at all times until sutures are removed. Although these collars appear uncomfortable, they prevent licking and chewing at the wound and allow for rapid healing. They can eat and drink with a head collar on providing the bowl circumference is smaller than the bucket.
Stitches are usually removed 10-14 days after the operation and an appointment is required. There is no charge for suture removal.
Their mouth may be tender for a few days so offering soft food can help.
In the case of teeth extractions, there may be sutures in the gums. They are dissolvable and will fall out in time.
Some teeth extractions are performed with a dental nerve block so parts of their mouth are numb.
A small amount of drool is considered normal. However, if they are drooling excessively or bleeding from their mouth, please call us immediately.
If They Have A Bandage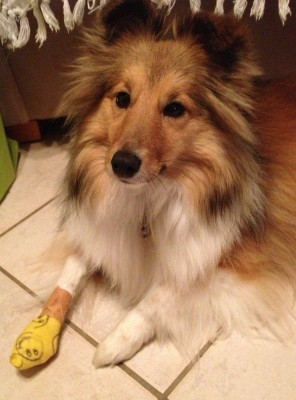 Keep the bandage clean and DRY. We can supply you with a waterproof bootie for wet weather if required.
Ensure they cannot remove the bandage prematurely. We can supply a bucket collar.
Do not allow the bandage to be left on longer than recommended.
Monitor the bandage to make sure there is no swelling above or below, no smells or discharge.
An appointment is required for bandage removal/replacement